Go2 Driving School provides driving lessons in Derby and have built a solid reputation for outstanding customer service whilst delivering excellent driving test pass results. January to August last year we achieved a 100% pass rate (14 first time passes in a row).
We do not attempt to compete with cheap driving lessons. Our core driving lesson price is £28ph and reflects the level of dedication and commitment of our driving instructors. We compete on quality and value. Our customers benefit from quicker learning and generally experience greater success when it comes to passing the driving test.
We'd be delighted to answer your questions, listen to your requirements and check driving lesson availability in your particular area. Driving lessons in Derby.
---
Services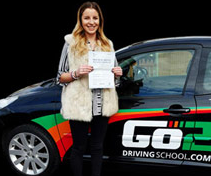 Our 6 secrets to your success:
All of your driving lessons will have structure and a clear defined objective. No driving around with no idea of what you are trying to achieve.
You will learn faster with our modern teaching/coaching style.
Regular recaps that will speed up your learning process.
Your lessons will be interactive. Instructors will actively encourage your questions to clarify any misunderstandings that you may have.
You will benefit from two hour lessons and a regular weekly slot to ensure you get best possible value for your money and continuity to reduce your learning period.
Driving lessons will end with a 5 minute summary to reflect on the learning that has taken place and to cement a firm understanding before leaving the vehicle. Strengths and weaknesses are discussed along with a plan on how you can make improvements going forward. What you discuss in the final 5 minutes will stay in your thoughts until the next session.
Reviews and Ratings
We do not have any reviews about Go2 Driving School available right now.