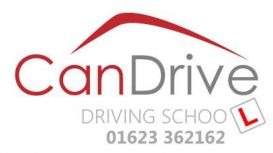 Can Drive are a local driving school delivering quality driving lessons. We have experienced male and female driving instructors in Mansfield and Sutton in Ashfield and the local area. All our instructors are DVSA Approved and regularly undergo further training to ensure excellence in teaching.
Now that you have decided you want to learn to drive you just have to find the right driving school. Our Can Drive instructors are committed to ensure you achieve your goals, with our teaching approach that's tailored to suit individual needs. Can drive driving lessons Mansfield our aim is to ensure everyone achieves their potential to fulfil their driving goals.
We understand there are many anxieties surrounding driving. That's why taking driving lessons Sutton in Ashfield or taking driving lessons Mansfield we can assure you we have a relaxed and friendly teaching style to put you at ease and enable you to reach your potential.
Can Drive instructors will teach you the necessary knowledge and skills required to pass your driving test. We will also prepare you for your future driving endeavours, enabling you to stay safe on the roads.
Reviews and Ratings
If I could've given 10 stars on this review page I would have done. Everything about Wayne the instructor was first class. From the way he spoke to you and relaxed you to the way he executed the lesson. I never thought I would get my driving license. Today I passed first time, and I do not think I could have had a better instructor to help get me across that line. From sitting in the car for the first time to getting out for the last time today I had a great time learning. I would strongly advise any person that is wanting to drive to learn with this company because they are first class. Thankyou.
Brilliant experience! Couldn't have asked for a better service! Never had a lesson cancelled or rearranged and my instructor was never late! Lessons were quickly progressive and beneficial and provided all the skills needed to drive safely and pass my test! In 26 hours I passed first time with no faults! Shows the quality of the lessons. Instructor was also friendly and could always have a laugh with him, highly recommend this driving school! Top class!
Definitely 1000% recommend Natalie, I had bad experiences before with previous instructors and never ever thought I'd pass my test as my confidence was rock bottom and I did and I can't thank her enough for her time, patience & knowledge she is "amazing". I've Neva felt so relaxed on a lesson as I did with Natalie it all seem to come together and my confidence grew and grew. Would recommend all day long!